South Carolina's Councils of Governments are trusted partners with local, state and national governments, navigating policy issues, advocating on behalf of multiple regions, and leveraging successes to build a grander story for our state.
We are pleased to provide the collective impact of our work in the following report.
2022 Impact Report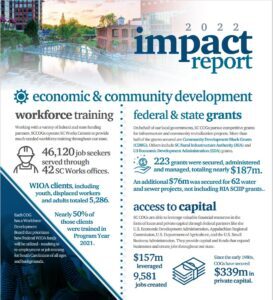 ---
Past SCCOGs Awards
In the past, SCARC awards were presented on a sporadic basis, and only for Legislator of the Year and State Employee of the Year.  Awards were initiated and agreed on by the COG Directors Committee.  Records are sparse, and the following list of award recipients may not include all past award winners.
Governmental Partners of the Year:
2018 – Christy Hall, Director, SCDOT, Daryl Broome, Lieutenant Governor's Office on Aging
2017 – Miriam Hair (Retired 2017), Executive Director, SC Municipal Association
2016 – Lee Mertins, H. Philip Paradice, Jr., US Economic Development Administration
2015 – Dr. Jimmie Williamson, President, SC Technical College System
2013 – Mike Shealy, Budget Director, SC Senate Finance Committee
2012 – Robin Cooley, Economic Development Administration, Glenn McConnell, Former Lieutenant Governor
2011 – Tony Kester, Lieutenant Governor's Office on Aging
2008 – Dr. Peggy Torey, SCDOC
2007 – Bobby Bowers
2006 – Ron Patton, SCDOT
2005 – Tim Dangerfield
2004 – Bonnie Ammons
2003 – Mark Alexander
Previous Award Winners: Fred Carter | Bob Probst, SCDOT | Betty Mabry, SCDOT | Pat Dixon, EDA | Olney England, SCDOC | Mike Gulledge, B&CB | Dan Mackey
---
Legislators of the Year:
2018 – Rep. Mike Forrester, Appalachian COG
2017 – Hugh K. Leatherman, Sr., Senate
2016 – Thomas Alexander, Senate
2015 – Billy O'Dell, Senate | Rep. Murrell Smith, Jr., SC House District 67
2014 – Nelson Hardwick, SC House District 106
2013 – Mike Pitts, House – Laurens County
2012 – James "Jimmy" Neal, SC House District 44
2011 – Robert "Wes" Hayes, Jr., Senate
2008 – William O'Dell, Senate
2007 – Herb Kirsch, House
2006 – Dan Cooper, House
2005 – Hugh Leatherman, Senate
2003 – Eldridge Emory, House
Previous Award Winners: Billy Boan, House | Yancey McGill, Senate | Pat Harris, House | John Drummond, Senate
---
Regional Project of the Year:
2018 – Neighborhood Initiative, Catawba COG
2017 – Gateway Master Plan, Catawba COG
2016 – Education 2 Employment (E2E), BCD COG
2015 – Connect Our Future, Catawba COG
2014 – Upstate Transitions Project, Appalachian COG
2013 – Youth Focus Forum | GPS Your Career Destination, Lower Savannah COG
2012 – Catawba Regional Textile Mill Redevelopment Guide
2011 – Lancaster GIS Tracking Project, Catawba COG
2010 – Aging, Disability & Resource Center & Regional Transit Coordination Project, Lower Savannah COG
2009 – Cross County Connection/Regional Transit, Lower Savannah COG
2008 – Fund Manager For SC DHEC Brownsfield Cleanup Revolving Loan Fund, Catawba COG
2007 – Pee Dee WIB Faith-Based One-Stop Initiative
2006 – Info-Map-Online Mapping for Regional  Economic Development, Appalachian COG
2005 – Advanced Planning Grant, B-C-D COG
2004 – WMD Terrorism Awareness Training Program, Appalachian COG
2003 – Chester County Gayle Mill Reuse Project, Catawba COG
---
Volunteer of the Year:
2018 – Mayor Henry Jolly, Appalachian
2017 – Rep. Mary Gail K. Douglas
2016 – Dennis Claramunt, Appalachian
2015 – Ed Elliott, Appalachian
2014 – Wes McAllister, Upper Savannah
2013 – Sen. Thomas Alexander, Appalachian
2012 – Neil Smith, Appalachian
2011 – Joe Dill, Appalachian
2010 – Rev. J. W. Sanders, Appalachian, deceased
2009 – Judy Gilstrap, Appalachian
2008 – O'Neil Hamilton, Pee Dee
2007 – Dr. Bill Painter, Santee-Lynches
2006 – Gloria Butler, Appalachian
2005 – King Dixon, Upper Savannah
2004 – Chris Christopherson, Appalachian
2003 – Eddie Wynn, Appalachian
---